Structure of the Core
Every undergraduate Fisher student participates in the Fisher Core, a program designed to improve your ability to write, to think critically, and to apply your education to the big questions that face us as a community today.
The Core begins with a first-year experience, where you will work in a small learning community and participate in a common set of courses with expert faculty from throughout the University.
Every semester students take at least one Core course (and sometimes two) that complements their educational journey, guiding them through the Core values of Fisher, from community-engaged learning to communication.
Below, the ten courses that comprise the Fisher Core are explained in three chronological sections. First-year students begin with Foundation Courses. As you progress academically in your degree program, you will move through Exploration Courses, and ultimately complete the Culmination Courses, which include the Cardinal Capstone, prior to graduation.
The Foundation Courses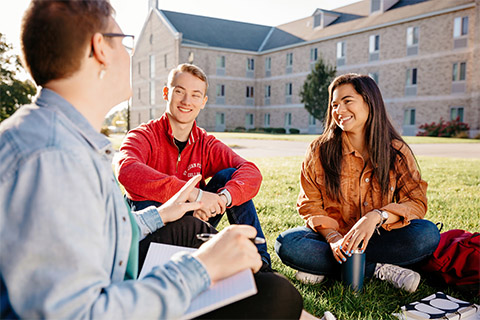 The foundation courses are designed to provide you with the knowledge and skills necessary for success in higher education. In these four courses, students are introduced to six key learning outcomes at Fisher: diversity, equity, and inclusion; communication; ethical reasoning; citizenship and community engagement; inquiry and analysis; leadership, and collaboration.
Learning Community: In two connected courses, you will learn about a topic or theme from multiple disciplinary perspectives, improving your communication abilities while being introduced to the skills necessary for productive citizenship and leadership—collaboration, and an understanding of the value of diversity and inclusion. (Two courses)
Research-Based Writing: In this intensive writing course you will develop your communication skills while practicing critical inquiry and analysis as tools to develop sound arguments and effective research papers. You will be asked to consider issues from more than one perspective, to use elements of persuasive argumentation, and to use and document sources properly. You will also make oral presentations and learn the value of effective revision. (One course)
Data Analysis: Courses explore the nature of numerical literacy and quantitative reasoning, and you will be introduced to ethical reasoning as it applies to the ways data can be used in developing arguments and as a complement to research writing. You will learn to use appropriate tools and technologies to explore and analyze data in a systematic fashion – and to evaluate the strength of a conclusion drawn from specific data. (One course)
The Exploration Courses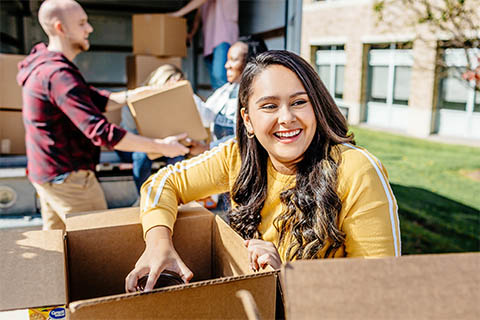 Exploration courses are designed to further develop mastery of the Core learning outcomes. There are four Exploration level courses in the Core. You must successfully complete at least one course out of each category. These courses may apply as electives in major and minor programs.
Citizenship and Civic Engagement: You will build on first-year courses to deepen your knowledge and help gain the perspectives you need to become a contributing citizen in a diverse and complex society. You will also practice your collaboration and leadership skills to improve your abilities to work across and within community contexts and structures to achieve civic aims in a democracy.
Creative Inquiry and Analysis: You will demonstrate the ability to analyze issues, concepts, and artifacts in determining valid evidence, developing sound arguments, and making informed decisions. You will engage in concrete problem-solving frameworks including quantitative, scientific, logical, critical reasoning, and information literacy. You will continue to practice your communication skills and apply your learning to a wide array of real-world problems.
Diversity, Equity, and Inclusion: You will demonstrate an understanding of the sociocultural, historical, and political underpinnings of equity and justice concerns in the U.S and develop the understanding necessary to participate in a variety of diverse communities. You will further use these learning experiences to increase your self-awareness, that is, to understand and explore the cultural basis of your own values, beliefs, and priorities. In these classes, you will also continue to practice collaborating with peers from diverse backgrounds and points-of-view and to exercise leadership skills.
Ethical Reasoning: You will learn to produce ethically justifiable positions. Through the study of theoretical ethics and moral reasoning, you will learn to develop well-reasoned arguments and practical action plans based on an understanding of what it means to live and act well in community and society. You will further practice integrative thinking and applying your knowledge to new situations.
The Culmination Courses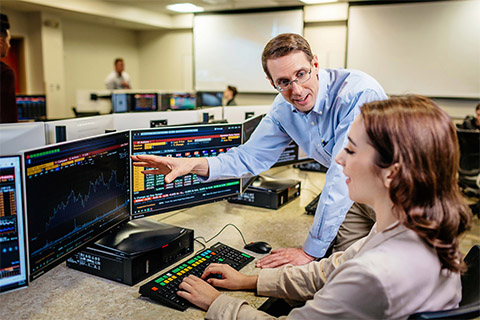 The Culmination courses are the developmental pinnacle of the Core. You will integrate all of your prior experiences both within the Core and your respective disciplines, leading to a summative experience that encapsulates your overall Fisher Experience.
Advanced Research-Based Writing: This junior-level Core course serves as a preparatory springboard for you to engage in the pinnacle Cardinal Capstone. The focus on writing and analysis provides you with the appropriate skills to tackle the breadth and complexity expected in your final, culminating Cardinal Capstone.
Cardinal Capstone: This senior-level experience provides you with an opportunity to apply the skills and knowledge that have been built throughout your undergraduate experience, incorporating knowledge and skills developed and honed both in the major and in the Core. You will practice key skills in this engaging workshop environment, working together to reach a consensus on how to develop solutions to problems, exercising ethical judgments, and collaborating in diverse groups. Here the unique qualities of a Fisher education come to light as students showcase their learning and become active citizens in our communities, on and off-campus.
Core Requirements for Honors Students

Honors students also take 10 courses to meet Fisher's Core requirements but the Core Exploration courses are met in alternate ways. See the Honors section of the Undergraduate Catalog for details.

Visit the Catalog