Assistant Professor and Director, Master of Public Health and Chair, Public Health Program
Areas of Interest: Maternal and child health epidemiology; nutrition and weight control during pregnancy; pregnancy complications; subclinical eating disorders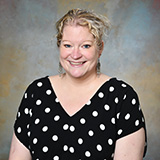 Certifications:
Apple Teacher
Education:
Ph.D., University of Rochester School of Medicine and Dentistry
B.S., St. John Fisher College
Dr. Heather McGrane Minton is a maternal and child health epidemiologist with training in nutrition and child development. She has developed and delivered multiple evidence-based trainings regarding client recruitment, retention, and engagement for community health workers in maternal and infant health agencies across New York state.
Dr. McGrane Minton's research centers on pregnant women and mothers with small children. Most recently her work has investigated the association between genetic markers for taste preference and how these influence early childhood diet. Additional work includes nutritional interventions for pregnant women and mothers with small children, as well as a clinical trial to reduce excessive weight gain during pregnancy.
Dr. McGrane Minton teaches courses on evidence-based practice, research methods, epidemiology, biostatics and population health, and developmental psychology. She has expertise in epidemiology, public and community health, evidence-based practice, maternal and child health, human development, biostatistics, research design, clinical research, data analysis, and quantitative research. She also is a trainer for the Rochester Area Parenting Program and a Master Trainer for the American Hospital Association's TeamSTEPPS interdisciplinary program to increase patient safety. She has acted as a statistical consultant on multiple grants and/or projects.
Dr. McGrane Minton is actively involved in several student research projects and is highly engaged in mentoring the next generation of public health practitioners.