Graduate Program Chair, School of Nursing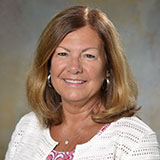 Certifications:
Apple Teacher
Education:
DNP, St. John Fisher College
M.S., Advanced Practice Nursing, St. John Fisher College
B.S., Nursing, Alfred University
Dr. Tydings received her B.S. in nursing at Alfred University, her M.S. in advanced practice nursing as a clinical nurse specialist at St. John Fisher College, and her Doctor of Nursing Practice from St. John Fisher College. Her DNP work was based on increasing the proportion of baccalaureate prepared nurses in hospitals across New York state.
Dr. Tydings' research interest is in nursing professional practice. Among other studies, she served as the principle investigator of a qualitative study to develop a system-wide nursing professional practice model for a local health system.
Dr. Tydings is an appraiser for the American Nurses Credentialing Center Magnet Recognition Program and an evidence-based practice facilitator for the Helene Fuld Health Trust National Institute for Evidence-based Practice in Nursing and Healthcare, The Ohio State University, Center for Transdisciplinary Evidence-Based Practice, Columbus, Ohio. She is also a member of the Clinical Investigation Committee (the system's IRB) at Rochester Regional Health.
Publications
Tydings, D. M. (2014). Evaluation of a toolkit to assist with implementation of the "80/20" recommendation. Journal of Nursing Administration, 44(12), 647-652.
Sellers, K., Millenbach, L., Zittel, B., Tydings, D. M., Murray, C. (2014). Influence of RN BS education on nursing practice: Outcomes create a moral imperative for nurse leaders. Nurse Leader, 12(6), 28-32.
Dimitroff, L., Crotser, C., Tydings, D., Santelli, J., Ernest, L., & Nichols, L. (2016). Partners in academia and practice: Expediting and transforming scholarly nursing projects. Journal of Nursing Education and Practice, 6(7), 145-149.
Dimitroff, L., Tydings, D., Nickoley, S., Nichols, L. & Krenzer, M. (2016). From blank Canvas to Masterwork: Creating a Professional Practice Model at a Magnet Hospital. Nursing Research and Practice, 2016, 1-12. http://dx.doi.org/10.1155/2016/8783594
Presentations
November 2007: Journey to Magnet Excellence, Journey to Nursing Excellence and Magnet Recognition Regional Conference, Rochester, New York
October 2008: Magnet Unit Champions Maintaining the Momentum, National Magnet Conference, Salt Lake City, Utah
July 2010: National Nursing Staff Development Annual Conference, Comparison of computer-based versus lecture-based instruction for nurses' continuing education: Effects on learning outcomes and satisfaction, San Diego, California
September 2012: Panel Member, "BS in 10" Forum, Genesee Valley Nurses Association, Rochester, New York
October 2012: Future of Nursing Initiative, Genesee Valley Nurses Association Business Meeting, Rochester, New York
March 2013: The Future of Nursing Initiative, Genesee Valley Nurses Association Legislative Reception, Rochester, New York
May 2013: The Magnet Journey, Newark-Wayne Community Hospital Nurse's Week Teaching Day, Newark, New York.
June 2013: The Future of Nursing Initiative, PIN Alumni meeting, the Jewish Home, Rochester, New York
July 2013: Abstract Accepted for Empowering Nurses to Create a Professional Practice Model, Sigma Theta Tau International Conference, Prague, Czech Republic. Unable to attend.
November 2013: Professional Practice Model: Are We There Yet?, Rochester General Hospital 13th Annual Nursing Research Conference, Rochester, New York
November 2013: Measuring Nursing Impact, Rochester General Hospital 13th Annual Nursing Research Conference, Rochester, New York
February 2014: The Future of Nursing, NYSPANA Annual Conference, Rochester, New York
October 2017: Magnetic North, Development of a System Professional Practice Model, American Nurses Credentialing Center National Magnet Conference, Houston, Texas
October 2017: Using Evidence-Based Practice for Success on the Clinical Ladder, Inaugural Helene Fuld Health Trust National Summit on Transforming Healthcare Through Evidence-Based Practice, Columbus, Ohio