Coordinator of Institutional Reporting and Academic Projects, Office of the Provost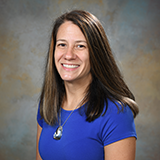 Education:
MBA, St. John Fisher University
M.Ed., University at Buffalo, The State University of New York
B.A., St. John Fisher University
Kristin Anderson is the coordinator of institutional reporting and academic projects at Fisher, working on assessment and National Council for Accreditation of Teacher Education (NCATE) accreditation for the Ralph C. Wilson, Jr. School of Education. Her primary projects include working with the unit assessment and evaluation system, managing the School's databases, and preparing reports for NCATE accreditation.
Kristin graduated from Fisher in 2000 with a B.A. in communication/journalism, earned her Ed.M. in higher education administration from the University at Buffalo in 2002, and graduated with her MBA from Fisher in 2009.
Kristin worked at the University at Buffalo, Duke University, and the University of Rochester before coming to Fisher in fall 2005 to help with the School's national accreditation; she started full-time at the University in January 2006.