Associate Professor and Chair, Undergraduate Nursing Program
Areas of Interest: Health work environments; how the work environment impacts patient outcomes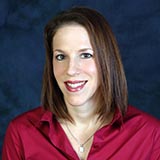 Certifications:
Critical Care Registered Nurse
Certified Nurse Educator
Registered Nurse
Apple Teacher
Education:
Ph.D., University of Rochester
M.S., Georgia College and State University
B.S., Binghamton University
B.S., Allegheny College
Dr. Boev's program of research focuses on the health work environment and how the work environment impacts patient outcomes.
Specifically, her research found that nursing units with favorable working conditions are related to superior patient outcomes.
One study showed that hospital units with favorable nurse/physician collaboration were associated with lower rates of central line blood stream infections and ventilator-associated pneumonias. She is currently working on a qualitative study that explores nurses and physician's perceptions of collaboration. This study was funded by a St. John Fisher College faculty development grant.
Presentations
Deadbeat Left Ventricle, and the Beat Goes On: A Multidimensional View of the Patient with Hypoplastic Left Heart Syndrome, Presented at NTI May 2018, Boston, MA
Publications
Additional Information