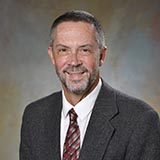 Certifications:
Apple Teacher
Education:
J.D., University of Kentucky
M.S., University of Rochester
B.S.Pharm., University of Buffalo
Dr. Karl Gerard Williams has been a member of the Wegmans School of Pharmacy faculty since 2007. He teaches courses in Pharmacy Law, Ethics, and Counseling. His continuing professional mission is to improve public health through direct patient education; enabling patients to identify therapeutic effect, recognize and manage side-effects, and achieve success in pharmacotherapy.
Prior to joining St John Fisher College, Dr. Williams served on the faculty at the University of Wyoming School of Pharmacy and St. John's University College of Pharmacy and Allied Health. In addition, he has maintained clinical and administrative practice for over 30 years at Myers Community Hospital, Moses Ludington Hospital, Mckesson Medication Management, and Little Falls Hospital.
Williams earned his B.S. in pharmacy from the State University of New York at Buffalo. In addition, he has earned an M.S. from the University of Rochester Toxicology Training Program, J.D. from the University of Kentucky, and an LL.M. in Law and Technology from Syracuse University.
He has authored over 100 scholarly works with interests relating to patient safety, risk minimization, professional practice, civil rights, labor, ethical corporate management, and education. Dr. Williams is a contributing member of the Editorial Board of the Journal of Pharmacy Practice. He is licensed to practice pharmacy in New York, Kentucky, the New England states, and Pennsylvania, and is admitted to the practice of law in New York and Kentucky.
Including serving as the chair of the Biologics Law Committee in the New York State Bar Association Food and Drug Law Section, Dr. Williams is active in numerous professional organizations including, as past-president the Pharmacy Society of Rochester and the Rochester-area Society of Health System Pharmacists. In addition, he is currently serving on the Board of Directors of the Pharmacists Society of the State of New York. Dr. Williams serves as a pro bono trial officer on the Surrogate Decision Making Committee for the NYS Justice Center.
The students of Wegmans School of Pharmacy have honored Dr. Williams with the Teacher of the Year award in 2008 and 2010, and the Advisor of the Year Award in 2014.