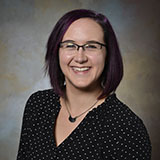 Education:
M.S. Rochester Institute of Technology (RIT)
B.A. State University of New York Empire State College
A.A.S. Rochester Institute of Technology (RIT)
Katrina Rex is the content strategist for the Golisano Institute. She brings years of experience developing and organizing digital content and leveraging web and social content to achieve marketing and communication goals.
She works with faculty, staff, and university partners at the Golisano Institute to create and maintain media related to online learning, Institute news, and promotional materials that support the Institute's mission to ensure the next generation of nurses has the skills, experience, and knowledge to care for individuals with intellectual and developmental disabilities (IDD). In this role, Katrina works with the faculty and staff of the PATH-PWIDD consortium, an interprofessional group of leaders from the fields of health care and education working to transform the quality of health care for individuals with IDD.
Katrina studied art at the Rochester Institute of Technology (RIT), earning an associate degree in illustration. She completed a B.A. focusing on urban and community development at SUNY Empire State College. She graduated with an M.S. in professional studies and an advanced graduate certificate in project management from RIT where her interdisciplinary graduate program focused on communication and organizational behavior.
Before joining the Golisano Institute, Katrina served as the content strategist in Fisher's Office of Marketing and Communications. In this role, she created web content for college-wide programs and initiatives. She previously worked at Rochester Institute of Technology, where she oversaw web content for the Division of Academic Affairs. In addition to more than a decade of website development and maintenance experience, her past work included grant writing, community organizing, program assessment, marketing, policy and governance, and social media.