Assistant Professor and Chair, Sport Management Department
Areas of Interest: Sport and social media; sustainability in sport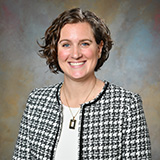 Certifications:
Apple Teacher
Education:
Ph.D., Sport & Exercise Science - Sport Management, University of Northern Colorado
M.A., Sport Administration, Canisius College
B.A., History, Valparaiso University
Year Started at Fisher: 2012
Total Years Teaching Experience: 12
Frequently Teaches: Sustainability in Sport, Theory and Behavior in Sport Organizations, Sport & Social Media, Research & Evaluation
Professional Memberships: Faculty Athletics Representatives Association
Sport Industry Experience: Director of Campus Recreation, Pfeiffer University; Sports Information Director, Pfeiffer University
Fandom: Buffalo Sabres, WTA & ATP tennis, Madison Keys, Novak Djokovic
Dr. Burakowski serves as the College's Faculty Athletic Representative and as advisor to the Sport Management Club. She enjoys partnering with sport organizations and professionals to bring the industry into the classroom. Dr. Burakowski is most proud of seeing the evolution that SJFC sport management students go through from their first days on campus to their first years as established industry professionals.
Follow Dr. Burakowski on Twitter @sportyspicephd.