Visiting Assistant Professor
Areas of Interest: Acute care/vascular surgery and in-home health care (clinical); quality metrics (research), Alzheimer's disease, and the promotion of leadership/scholarship in nursing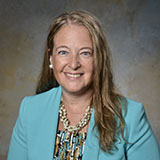 Certifications:
Apple Teacher
Education:
DNP, M.S., B.S., Nursing, University of Rochester
B.S., Business Studies, Buffalo State College
AAS, Humanities, Erie Community College
Dr. Branson currently teaches in the graduate and undergraduate nursing programs at the Wegmans School of Nursing at St. John Fisher College. She obtained her Bachelor of Science and Master of Science in Nursing and her Doctor of Nursing Practice (2015) from the University of Rochester, School of Nursing.
Dr. Branson is a board certified family nurse practitioner, working in the acute care setting of vascular surgery at Strong Memorial Hospital for over 11 years. Dr. Branson also works for United Health Care – Optum; House Call Team, providing in-home assessments and education for members to reduce gaps in care.
Dr. Branson is a member of Sigma Theta Tau – Epsilon Xi and on the Leadership Succession Committee for the Delta Sigma Chapter at St. John Fisher College. She has been an active member with the Nurse Practitioner Association (NPA) for over 15 years, and is currently director for Region 2 of the NPA.