Associate Professor
Areas of Interest: Drug Delivery, Oncology, Immunotherapy, and Nanotechnology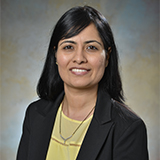 Certifications:
Pharmacy Teaching Certificate Apple Teacher
Education:
Ph.D., Mercer University
M.S., Campbell University
B.Pharm., Mumbai University
Dr. Chablani is an Associate Professor with the Department of Pharmaceutical Sciences and has been with the institution since 2012. She has a bachelor's degree in pharmacy from the University of Mumbai, India, a master's degree from Campbell University's School of Pharmacy and Health Sciences in North Carolina, and a Ph.D. in pharmaceutical sciences from Mercer University. During her master's program, she worked with the Research and Development team of GlaxoSmithKline (NC) to evaluate two Process Analytical Tools (PATs) to optimize the granulation process for tablet manufacturing. Her Ph.D. dissertation focused on formulating and evaluating particulate breast cancer vaccines. Along with her research endeavors, she also completed the ACPE-accredited Pharmacy Teaching Certificate program at Mercer University.
At Fisher, Dr. Chablani is involved in co-teaching the following courses for the on-campus and online programs:
PHAR 3142 – Pharmaceutics I
PHAR 3242 – Pharmaceutics II
PHAR 4112 – Compounding of Liquid and Solid Dosage Forms
PHAR 5510 – Independent Research Elective
PHAR 5516 – Pharmaceutical Biotechnology Elective
PHAR 6400 – Research APPE
Along with teaching, Dr. Chablani has an active research laboratory focused on drug delivery systems, vaccines, and cancer immunotherapy. Dr. Chablani's past and present research collaborations include Abbott Pharmaceuticals (IL), GlaxoSmithKline (NC), Bausch and Lomb (NY), iuvo BioSciences (NY), Pharmanza Herbals (India), and Emory University (GA). She was one of two pharmaceutics faculty recipients recognized nationally with the AACP New Investigator Award in 2018. AFPE and Brander Beacons Cancer Research have also funded her research. She is also an active member of AAPS, AACP, Rho Chi, and Phi Kappa Phi.
Dr. Chablani was awarded the "Advisor of the Year" in 2015, 2017, and 2019 and the "Preceptor of the Year" in 2016 by the Wegmans School of Pharmacy. St. John Fisher University also recognized Dr. Chablani with the "Trustees' Award for Distinguished Scholarly Achievement" in 2020. The Trustees' Award for Distinguished Scholarly Achievement is the highest honor the Board of Trustees can bestow on a faculty member, second only to an honorary degree.
Recent Publications
Exploration of hemocompatibility and intratumoral accumulation of paclitaxel after loco-regional administration of thermoresponsive hydrogel composed of poloxamer and xanthan gum: An application to dose-dense chemotherapy,International Journal of Biological Macromolecules, December 8, 2022. Co-authored with G. Jeswani, U. Gupta, R.K. Sahoo, K.T. Nakhate, A.G. Taksande, Ajazuddin.
A comparison of cancer vaccine adjuvants in clinical trials, Cancer Treatment and Research Communications, December 7, 2022. Co-authored with M. Marriott and B. Post.
Cell-Penetrating Peptides as Passive Permeation Enhancers for Transdermal Drug Delivery, AAPS PharmSciTech, September 26, 2022. Co-authored with V. Singh.
Development and Optimization of Paclitaxel Loaded Eudragit/PLGA Nanoparticles by Simplex Lattice Mixture Design: Exploration of Improved Hemocompatibility and In-Vivo Kinetics, Biomed Pharmacother, October 13, 2021. Co-authored with G. Jeswani, U. Gupta, R. K. Sahoo, K. T. Nakhate, and Ajazuddin.
Formulation and Optimization of Sildenafil Citrate-Loaded PLGA Large Porous Microparticles Using Spray Freeze-Drying Technique: A Factorial Design and In-Vivo Pharmacokinetic Study, International Journal of Pharmaceutics, March 2021. Co-authored with Hend Shahin, Bhavani Prasad Vinjamuri, Azza A. Mahmoud, Suzan M. Mansour, and Mahavir Bhupal Chougule.
Immunotherapy as a Second-Line or Later Treatment Modality for Advanced Non-Small Cell Lung Cancer: A Review of Safety and Efficacy, Critical Reviews in Oncology/Hematology, August 2020. Co-authored with Emily Geraci.
Design and Evaluation of Novel Inhalable Sildenafil Citrate Spray-Dried Microparticles for Pulmonary Arterial Hypertension, Journal of Controlled Release, March 2019. Co-authored with Hend I. Shahin, Bhavani Prasad Vinjamuri, Azza A. Mahmoud, Rehab N. Shamma, Suzan M. Mansour, Hussein O. Ammar, Mahmoud M. Ghorab, and Mahavir Bhupal Chougule.
Evaluation of a Particulate Breast Cancer Vaccine Delivered via Skin, AAPS J, January 2019. Co-authored with Suprita A. Tawde, Archana Akalkotkar, and Martin J. D'Souza.
Vehicles for Compounded Oral Liquid Medications: A Review. International Journal of Pharmaceutical Compounding, 2018. Co-authored with Kara Cutaia and Fang Zhao.
Stability of Extemporaneously Prepared Cinacalcet Oral Suspensions, American Journal of Hospital Pharmacy, 2018. Co-authored with Kara Thomson and David J. Hutchinson.