Visiting Associate Professor and Interim Dean, School of Business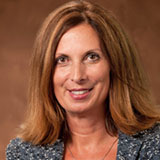 Certifications:
6 Sigma
The National Society of Fundraising Executives
New York State Teacher Certificates of Qualification
Sloan Foundation Online Teaching
Education:
Ed.D., Educational Administration, University of Rochester
MBA, Accounting, St. Bonaventure University
BBA, Accounting, St. Bonaventure University
Dr. Carol Wittmeyer serves as a visiting associate professor and the interim dean of the School of Business at St. John Fisher University where she has led the Family Business Initiative. Carol is a Smith Family Business Fellow at Cornell University and a faculty member for Loyola University Chicago's Family Business Center. She is a professor emerita at St. Bonaventure University, where she taught management and founded and advised the Family Business Club. Wittmeyer was tenured in business and education and served as interim dean of the School of Education during financial exigency from 1994-1996. She was certified in K-12 technology and business education.
Wittmeyer is active in many management and family business organizations and has dozens of presentations and articles, particularly in the family business discipline, and has served as an educational consultant and advisor to several regional and international multigenerational family firms. She also served as president and board member of the George and Robin Raymond Family Business Institute, a family foundation dedicated to supporting family businesses located at Alfred University. Prior to that, she served as associate vice president for advancement at Alfred University, managing The New Millennial Campaign, which raised $82 million.
Wittmeyer graduated from St. Bonaventure University where she earned both her BBA and MBA in accounting. Her doctoral dissertation at the University of Rochester was on the decision-making processes of governing boards, and suggested that boards tend to "satisfice" when financial situations are strong and lean toward closely managing institutions when financial situations are weak; Fisher participated in her research.