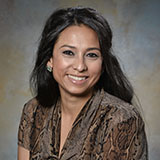 Certifications:
Apple Teacher
Education:
Ambulatory Care Pharmacy Residency, University of Rochester Medical Center (Rochester NY)
Pharm.D., Washington State University
B.S., California State University at Fresno
Dr. Cipriano received her doctorate of pharmacy from Washington State University, Spokane WA. She continued her pharmacy practice training by completing a community pharmacy residency at University of Rochester Medical Center (Rochester, NY) focusing on ambulatory care.
Dr. Cipriano joined the Pharmacy Practice Department at the Wegmans School of Pharmacy as an assistant professor of pharmacy practice in 2009. Dr. Cipriano provides clinical pharmacy services and precepts third and fourth year pharmacy students during their Introductory Pharmacy Practice Experience IV and Advanced Pharmacy Practice Experience years at the Anthony L. Jordan Health Center (AJHC). This provides a great learning opportunity for student involvement in a site that has been accredited as a Level III Patient Centered Medical Home by the National Committee for Quality Assurance.
Since her time at AJHC, Dr. Cipriano has maintained the pharmacist-managed anticoagulation clinic, co-chairs the AJHC Pharmacy and Therapeutics Committee, and has been involved in the production of medication management policies and procedures to meet standards set forth by Joint Commission for the center. At AJHC, Dr. Cipriano provides anti-coagulation, diabetes, and medication management clinic services to Rochester's northeast area residents, a unique population encountering under-insured, underserved, and Spanish speaking patients. With her bilingual skills she has served as bridge between the Spanish speaking community and health care, and continues to receive countless referrals from the AJHC providers to provide further disease state and medication management in this patient population. In addition, she serves as an outpatient specialty preceptor for one of the core rotation's in internal medicine for the University of Rochester Medical Center, Community Pharmacy Residency Program.
Dr. Cipriano's clinical research and pharmacy practice interest includes Ambulatory Care (Anticoagulation, Diabetes, Medication adherence, and Smoking Cessation).