Adjunct Faculty; Curator, George Eastman House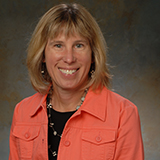 Education:
M.A., Columbia University
Kathleen A. Connor is presently the curator of the George Eastman House and George Eastman Legacy Collection. Kathy has been at the George Eastman House for 32 years. She is responsible for the care and maintenance of George Eastman's Colonial Revival style mansion and all aspects of collection care and interpretation for the George Eastman Legacy collection, which includes over 200,000 artifacts ranging from manuscripts, books, photographs and negatives, motion picture films, and three dimensional items such as clothing, camping equipment, guns, jewelry, Kodak advertising and Eastman Kodak Company ephemera. Kathy received her B.A. from St. John Fisher College in 1979, her M.A. from Columbia University in 1981, and also graduated from the University of Delaware program in collections care in 1994.
In 1999, Kathy opened an archive and study center for the George Eastman Legacy collection at the George Eastman House. The study center assists over 1,500 researchers annually.
Kathy initially worked in the Museum's Education Department where she developed the museum docent program; built the museum's first Discovery Room, which is a hands-on activity center for children and adults at the museum; and created the first pre-packaged loan materials for teachers and scout leaders which are known as "Discovery Kits."
Kathy regularly hosts interns from colleges and universities all over the United States and Canada. She presently teaches an "Introduction to Museum Studies" course and a course in "Historic Site Administration" at the College.