Visiting Assistant Professor
Areas of Interest: Women and gender studies; indigenous literature; world literature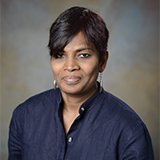 Education:
Ph.D., Rutgers, State University of New Jersey
M.A., M.Phil., Madras Christian College, Chennai, India
B.A., Women's Christian College, Chennai, India
Teaching for numerous departments, Dr. Singh has a Ph.D. in comparative literature from Rutgers University. Her areas of specialization include women and gender studies, South Asian studies, postcolonial studies and literatures, feminist/transnational feminist theories and literatures from indigenous communities. Her ongoing research focuses on intersections of caste, class and gender in rural India as evident in the lives, indigenous leadership strategies and oral narrative cultural expressions and published writings of Dalit (formerly referred to as "untouchables") women in South India and other indigenous communities of women globally.