Experiential Education Coordinator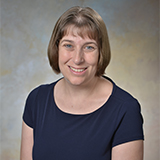 Education:
M.S., Higher Education Administration, University of Rochester
M.S., Counseling/Community Psychology, Marist College
Andrea DiGiorgio coordinates the experiential education portion of the students' curriculum. This involves placing students in IPPE and APPE rotations, preparing them for experiential rotations, and tracking their progress. She works with the "E-Value" online program in creating and generating the experiential curriculum and evaluations for both students and preceptors. Andrea also serves on the Wegmans School of Pharmacy Assessment Committee and the Student Conduct Committee for the College.
Prior to joining the School of pharmacy staff in late 2012, Andrea worked as the student employment coordinator for the State University of New York at Geneseo.