Assistant Professor
Areas of Interest: Skeletal muscle hypertrophy and atrophy; exercise and nutrition impact on disease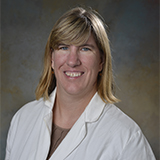 Education:
Ph.D., University at Buffalo
M.S., University of Massachusetts
B.S., Framingham State College
Dr. Savage joined SJFC after a 5-year research fellowship at the National Institutes of Health (NIH). While at NIH she trained with a presidential award winning scientist, learning the latest biotechnology techniques and investigating muscle growth. Her training encompasses several areas of biology and health. Dr. Savage's teaching and research bridges the gap between basic and applied biology. While teaching anatomy and physiology classes she encourages students to think about how a topic effects human health and disease. Her research with students, whether at the cellular level or whole body level, attempts to make medical discoveries to improve people's health.
Teaching
BIOL 105 - Human Anatomy
BIOL 106 - Human Physiology
BIOL 335 - Exercise Physiology
Research
Dr. Savage's lab is investigating the effect of myostatin on skeletal muscle. Myostatin is a protein that controls skeletal muscle mass size. Mutations of myostatin lead to enhanced muscle mass in several species including: mice, cattle, sheep, dogs, and in at least one human boy. There may be great therapeutic value in reducing myostatin levels and increasing muscle mass in those afflicted with muscle wasting diseases and conditions such as the muscular dystrophies, disuse atrophy or muscle mass loss that occurs with aging or micro-gravity of space flight.
In addition to the potential clinical applications, we are also interested in the basic myostatin biology. Skeletal muscle mass maintenance and growth occur by activation of muscle reserve cells, or by increased protein synthesis, or both. We are studying how myostatin affects these two processes to regulate muscle size. Also we are interested in myostatin's effects on the endocrine system and the differing effects of myostatin inhibition in males and females. We are trying to understand how myostatin inhibits skeletal muscle mass at the physiological, cellular, and molecular level, both during development and in adulthood.
Another interest of the lab is exercise and nutrition effects on disease prevention and progression. We are interested in knowing which nutrients, exercise types, durations, and intensities, are needed to help maintain and improve health in various groups. Particular focus is on exercise and nutrition's impact on metabolism and brain function.
Publications
Savage, K.J., J. Portas, and A.C. McPherron. Endurance exercise training in Myostatin null mice. Muscle & Nerve. 42 (3):355-362, 2010.
Savage, K.J. A Matter of Model. Comment on Point: Counterpoint: "Estrogen and sex do/do not influence post-exercise indices of muscle damage, inflammation, and repair. J. Appl Physiol. 106:1016-1020, 2009.
Manceau M, Gros J, Savage K, Thomé V, McPherron A, Paterson B, Marcelle C. Myostatin promotes the terminal differentiation of embryonic muscle progenitors. Genes Dev. 22 (5) :668-81, 2008.
Gordon, S.E., C.M. Westerkemp, K.J. Savage, R.C. Hickner, S.C. George, A. Fick and K.M. McCormick. Basal, but not over-load induced, myonuclear addition is attenuated by NG-nitro-L-arginine methyl ester (L-NAME) administration. Can. J. Physiol. Pharmacol. 85 (6):646-651, 2007.
Savage, K.J., and P.M. Clarkson. Oral contraceptive use and exercise-induced muscle damage and recovery. Contraception 66: 67-71, 2002.