Associate Professor; Chair, American Studies Department; Interim Program Director, African American Studies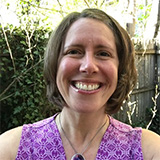 Certifications:
Apple Teacher
Education:
Ph.D., University at Buffalo, The State University of New York
M.A., University of North Carolina at Charlotte
B.A., State University of New York at Geneseo
Dr. Rossi specializes in memoir/autobiography, immigration literature, race and gender studies, pedagogical theory, autobiography theory, and service learning/social justice.
"I'm passionate about teaching, and I'm always interested in learning more about the beliefs and attitudes that change our culture—whether they are in the songs we hear, the stories we read, the videos we watch, the things we remember, or the ideas that inspire us."
Publications
"'I didn't know there were refugees in Rochester': Developing Citizenship Through Service Learning." Transformations: The Journal of Inclusive Scholarship and Pedagogy. XX.2 (Fall 2009/Winter 2010): 76-89.
Rev. of African American Literature and the Classicist Tradition: Black Women Writers from Wheatley to Morrison, by Tracey L. Walters. New York: Palgrave, 2007. Studies in the Novel 41.3 (Fall 2009): 397-399.
Rev. of African, Native, and Jewish American Literature and the Reshaping of Modernism, by Alicia A. Kent. New York: Palgrave, 2007. Studies in the Novel 41.3 (Fall 2009): 387-390.
"'Let the words bring wings to our feet': Negotiating Exile and Trauma through Narrative in Danticat's Breath, Eyes, Memory." Obsidian III: Literature in the African Diaspora. 6.2/7.1 (Fall/Winter 2005-Spring/Summer 2006): 203-220.
Committees and Boards
College Core Committee
First-Year Programs Advisory Board
Service-Learning Advisory Board
Women and Gender Studies Advisory Board