Visiting Associate Professor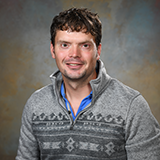 Education:
Critical Care Residency, Christiana Care Health System (Wilmington, DE)
Pharm.D., Ohio Northern University
Dr. Fellows received his Pharm.D. from Ohio Northern University in 2009. After graduation, Fellows completed a PGY-1 residency at St. Rita's Medical Center in Lima, Ohio and a PGY-2 critical care residency with an emphasis on emergency medicine at Christiana Care Health System in Newark, Delaware. Upon completion of his second residency, he began work as a clinical pharmacist in emergency medicine at Christiana Hospital. During his time in the emergency department, he became focused on reducing hospital length of stay and readmissions as part of an interdisciplinary admission team. He also served as an APPE preceptor for several schools of pharmacy and guest lectured for Arcadia University's physician assistant program.
In the summer of 2014, Fellows joined the faculty at the Wegmans School of Pharmacy and began working with patients in an outpatient setting at Anthony Jordan Health Center.
Dr. Fellows' research interests include adverse drug reaction prevention and pharmacist's impact on reducing hospital admissions.
Publications
Fellows S, Rosini J, Curtis J, Volz E. Hemorrhagic gastritis with dabigatran in a patient with renal insufficiency. J Emerg Med 2013; 44: e221-5.
Rosini J, Rajasimhan S, Fellows S, Nomura J. Delayed cardiac dysrhythmias after fingolimod administration. Am J Emerg Med 2015;987:e1-3.
Posters
Analysis of proton pump inhibitor infusion in patients with suspect upper gastrointestinal tract bleeding. Fellows S and Rosini J. Christiana Care Health System. Presented at ACEP Scientific Assembly 2012.