Visiting Assistant Professor
Areas of Interest: Financial accounting, managerial accounting, forensic accounting, fraud examination, and accounting information systems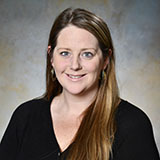 Certifications:
Apple Teacher
Education:
M.S., The George Washington University
B.S., St. John Fisher College
Erica Sysol, CPA has been a visiting assistant professor of practice at St John Fisher College's School of Business since 2019, transitioning from work in government to academia.
She began her career as an accountant with the Federal Bureau of Investigation (FBI), where she assisted with the procurement and implementation of the FBI's new enterprise-wide property management system and served as a subject matter expert. In 2013, her exemplary work earned her the Director's Award from Director Robert Mueller III for Excellence in Program Management.
Through multiple roles at the FBI, additional experience includes responding to audit requests, providing user assistance, creating job-related tutorials, and examining financial records with a forensic prospective.
Professor Sysol has taught financial accounting and cost accounting at the undergraduate level, and forensic accounting for the MBA program.