Associate Professor of Sociology/Anthropology & Public Health, Director Gerontology
Areas of Interest: Sociology of aging, health, family, mental health; Latinos/as in the U.S.; Hispanic cultural studies.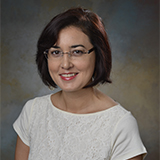 Certifications:
Certificate in Gerontology, Canisius College
Apple Teacher
Education:
Ph.D., Northeastern University (Sociology)
M.A. University of Rhode Island (Hispanic Studies)
B.S. University of Oviedo (Social Pedagogy)
Professor Rodríguez-Galán teaches courses related to health, aging, and family in the programs in sociology, anthropology, and public health. Her research and scholarship has been published in scientific journals and book chapters in the field of social gerontology. For more information, contact her via e-mail.