Professor
Areas of Interest: Cell to Cell communication: Endocrinology, Pharmacology, and Endocrine Disrupting Chemicals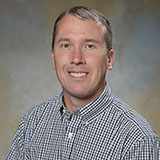 Certifications:
Apple Teacher
Education:
Ph.D., University of South Carolina
M.A., Kent State University
B.S., Ohio University
Interests
Using environmental pollutants, termed endocrine disrupting chemicals (EDCs), students working in the Freeman lab focus their studies on various aspects of animal developmental biology including ovarian follicle maturation, primordial germ cell migration, and larval swimming behaviors following embryonic EDC exposures in the zebrafish. In addition, we have recently begun using the fruit fly to study the impact of EDCs on larval fat body formation. These studies are aimed at providing a more detailed understanding of the role of EDCs on animal biology from widely used developmental biology models.
Teaching
BIOL 108 - Fundamentals of Nutrition
BIOL 152 - General Biology II
BIOL 320 - Advanced Human Anatomy
BIOL 320L - Advanced Human Anatomy Laboratory
BIOL 422 - Biopharmacology
BIOL 425 - Endocrinology
Research
The focus of my research program is to determine the effects of endocrine disrupting chemicals (EDCs) on various aspects of animal biology. EDCs are prominent in the environment as herbicides, pesticides, plasticizers, heavy metals and numerous other agents. These compounds have been shown to negatively impact both wildlife and human populations, often through binding to steroid receptors. Because of their potential to bind steroid receptors these compounds are particularly disruptive to the tightly controlled mechanisms of neural and reproductive development as well as adult neural, thyroid and reproductive function.
Former projects that undergraduate students have worked on include studies of zebrafish oocyte maturation in the presence of EDCs as well as early embryonic EDC exposure effects on PGC migration in the zebrafish. Current projects are moving away from a tight focus on reproductive biology and instead exploring EDC impacts in other areas of animal biology. Two current projects focus on the bisphenols, EDCs found in plastics that are commonly used for consumer products including food and liquid storage containers.
PROJECT 1
This line of experimentation was developed to evaluate the role of bisphenols in promoting altered swimming and motility behaviors in zebrafish larvae. It has been reported that early bisphenol A (BPA) exposure impacts the development of the hypothalamus and negatively impacts swimming and motility behaviors. However, other bisphenols, such as the common BPA replacements BPF and BPS, have not been studied (BPF) or extensively studied (BPS). We are currently evaluating the impact of BPF on swimming behaviors in zebrafish larvae. These studies rely on digital image capture (6-second intervals for 30 minutes) followed by Image-J and EXCEL analyses. These studies provide massive amounts of data and can be modified to study other chemicals, other animals, or to promote statistical literacy. We have modified this imaging system to work with water fleas and have introduced this platform and creature into our second semester freshman biology course as a Course Undergraduate Research Experience (CURE).
PROJECT 2
This line of experimentation was developed to evaluate the role of bisphenols in promoting fat deposition in fruit fly larvae. Specifically, larvae are grown in food laced with various concentrations of bisphenols and then evaluated for fat content through a larval buoyancy assay. From these studies we have multiple goals including the evaluation of various bisphenol doses and multiple projects aimed at determining the mechanism of bisphenol action in the fly.
Publications
Theodosiou, N., Choi, C. and Freeman E. Professional societies can play a vital role in career development. Developmental Biology, 2020, 459, pp. 5 - 8.
Freeman, E., Theodosiou, N., Anderson, W. From bench to board-side: Academic teaching careers. Developmental Biology, 2020, 459, pp. 43 - 48.
Conner*, M. and Freeman, E. Using zebrafish (Danio rerio) to study the behavioral impacts of early bisphenol F exposure reveals decreased swim speed, increased distance between fish, and increased freezing behaviors. BIOS, 2020, 91(1), pp. 21-30.
Safura*, S., Roba*, G. and Freeman, E. Evaluating the effects of bisphenols F and S with respect to bisphenol A on primordial germ cell migration in zebrafish (Danio rerio) embryos using immunofluorescence microscopy. The American Journal of Undergraduate Research, 2019, 16(3), pp. 69 - 77.
D'Angelo*, J. and Freeman, E. Effects of endocrine-disrupting chemical exposure on zebrafish ovarian follicles. BIOS, 2017, 88.1, pp. 9-18.
Freeman, E., Jeffries, B., and Cardin, M. Integrating career exploration and planning in STEM through faculty partnerships. NACE Journal, 2014, pp. 29-34.
Freeman, E. The design and implementation of an effective career orientation course for undergraduate majors. College Teaching, 2012, 60:4, pp. 154-163.
Valentino, L. and Freeman, E. Career center, faculty, alumni build mock interview program together: A collaboration between career center and faculty yields benefits for all. NACE Journal, 2010, pp. 29-32.
Freeman, E. and Lynd-Balta, E. Developing information literacy skills early in an undergraduate curriculum. College Teaching, 2010, 58:3, pp. 109-115.
Johnson, M., Freeman, E., Gardner, D., and Hunt, P. Oxidative metabolism of pyruvate is required for meiotic maturation of oocytes in-vivo. Biology of Reproduction, 2007, Vol. 77 (1), pp. 2-8.
Susiarjo, M., Hassold, T., Freeman, E., and Hunt, P. Bisphenol A exposure in-utero disrupts early oogenesis in the mouse. PLoS Genet, 2007, Vol. 3(1):e5.
Freeman, E., Jani, P., and Millette, C. Expression and potential function of Rho family small G proteins in cells of the mammalian seminiferous epithelium. Cell Communication and Adhesion, 2002, Vol. 9(4), 189-204.