Assessment and Online Program Librarian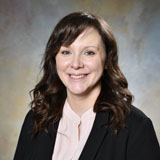 Certifications:
Apple Teacher
Education:
M.S., Library Science, University at Buffalo
B.S., English Literature, The College at Brockport
Pronouns: she/her
Is the librarian for:
Executive Leadership (Ed.D.)
Doctor of Nursing Practice (DNP)
Mental Health Counseling (M.S.)
Christina's published works at Fisher Digital Publications
A Typical Day
I'm looking over lots of data related to assessment (playing with spreadsheets) and working to make this information valuable to our stakeholders. I work with students, both at the Research Help Desk and online conferences, answering questions and troubleshooting research help from all levels (freshmen to doctorial). Trying to catch up with my colleagues (both @ Fisher and other libraries) about what they have been attempting for assessment or online programming.
Areas of expertise/interest
Data Visualization for Assessment, Teaching and Learning (as related to information literacy), Online and Distance Learning
My favorite part of my job
Answering questions: from students, faculty, colleagues, or myself. I love being able to work with others to either solve a problem or create something new, interesting, valuable.
I love it when
See above. :) Also, when I'm teaching a library session or working one-on-one with students and they have the "light-bulb" moment. No matter the connections they make, big or small, when someone makes a connection to the larger picture, it's wonderful!
Before becoming a librarian
I never wanted to leave college—so I became an academic librarian, all the fun of college, teaching, and learning, and none of the grades. Also, I bartended.