Associate Professor
Areas of Interest: Microfluidics, nanoparticles, 3D bioprinting, and remote sensing of microbial populations.
Office:

ISHS 202

Phone:

(585) 899-3881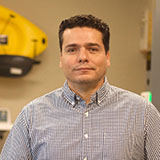 Education:
Ph.D., M.S., University of Rochester
B.S., National Autonomous University of Mexico
Teaching
BIOL 107 - Microbes & Disease
BIOL 199 - Philosophy of Science
BIOL 214 - Microbiology
BIOL 311 - Cell Biology
BIOL 330 - Advanced Cell Culture and Bioengineering
BIOL 357 - Nanobiology
BIOL 418 - Immunology
Research
Trained as an immunologist, Dr. Ontiveros is interested in a multidisciplinary approach that blends his expertise with concepts and tools from the fields of bioengineering, cell biology, microbiology, and remote sensing.
There are currently four lines of research in his laboratory:
Use of lipid-based nanoparticles to understand the molecular basis of inflammation and to explore novel ways in which drug delivery and vaccination can become more effective.
Building of a microbial flora database to enable the detection and prediction of bacterial populations in bodies of fresh water using satellite imagery.
Development of a low cost approach to 3D printing of biocompatible hydrogel scaffolds for tissue and organ construction.
Educational and research uses of film-based ultra thin microfluidic devices (PETLs) developed in the laboratory.
Dr. Ontiveros' Recent Publications
Additional Information