Visiting Associate Professor
Areas of Interest: Novel treatments for schizophrenia, metabolic burden of antipsychotic medications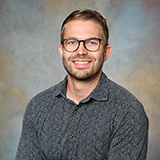 Certifications:
Apple Teacher
Education:
Psychiatric Pharmacy Residency (Milwaukee, WI)
Pharm.D., Drake University
Dr. Noel obtained his Pharm.D. from Drake University in 2010. After graduation, he completed a PGY-1 Pharmacy Practice Residency at Saint Barnabas Behavioral Health Center/Kimball Medical Center in Toms River, New Jersey and a PGY-2 Psychiatric Pharmacy Residency at the Clement J. Zablocki VA Medical Center in Milwaukee, Wisconsin. During his PGY-2 Residency, he had the opportunity to guest lecture at Concordia University Wisconsin's School of Pharmacy in a therapeutics course and mental health elective course.
Dr. Noel joined the faculty at the Wegmans School of Pharmacy in the summer of 2014 and will be practicing at the University of Rochester Medical Center (URMC) in the inpatient psychiatric units. He will also be a part of an exciting new service at URMC, Project ECHO® (Extension for Community Healthcare Outcomes) GEMH (Geriatric Mental Health), which consists of a multi-disciplinary team who provides evidence-based recommendations on cases presented by participating sites all around upstate New York. The goal of the project is not only to aid in the treatment of individual patients, but to also disseminate expert knowledge that can be applied to future patients.
Dr. Noel's research interests include novel treatments for schizophrenia and the metabolic burden of antipsychotic medications.