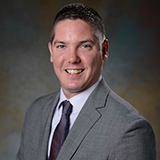 Certifications:
Board Certified Pharmacotherapy Specialist
Board Certified Pediatric Pharmacotherapy Specialist
Apple Teacher
Education:
Pediatrics Residency, University of Michigan Hospital (Ann Arbor MI)
Pharmacy Practice Residency, The Ohio State University Medical Center (Columbus OH)
Pharm.D., University of Buffalo
B.S., St. John Fisher College
Dr. Hutchinson received his Pharm.D. from the University of Buffalo. He continued his pharmacy practice training by completing a pharmacy practice residency (PGY1) at The Ohio State University Medical Center and a pediatrics residency (PGY2) at the University of Michigan Hospital and Health Centers. In 2008, Dr. Hutchinson joined the Wegmans School of Pharmacy as an assistant professor of pharmacy practice.
In addition to his faculty responsibilities, Dr. Hutchinson provides clinical pharmacy services and precepts fourth year pharmacy students at Golisano Children's Hospital at the University of Rochester Medical Center. He is also serves as a preceptor for the PGY1 & PGY2 residency at the hospital. Dr. Hutchinson's expertise is in pediatric pharmacotherapy, nutrition, and management of patients with cystic fibrosis. He is active in local, state, and national pharmacy organizations.
Dr. Hutchinson's research interests include stability of compounded products, academic assessment, and pharmacokinetics and pharmacodynamics of antimicrobial agents in pediatric patients.
Publications
Awards and Honors
Recipient, Best Paper Competition from 2015 ACCP Global Conference. Katherine Juba, Tina Khadem, David Hutchinson, Jack Brown.
Methadone and QTc Prolongation in Pain and Palliative Care Patients: A Case Control Study. Presented at The American College of Clinical Pharmacy Global Conference on Clinical Pharmacy. October 2015. San Francisco, CA
Wegmans School of Pharmacy at St. John Fisher College, Teacher of the Year, 2013-2014
Wegmans School of Pharmacy at St. John Fisher College, Preceptor of the Year, 2012-2013
University of Rochester Medical Center Department of Pharmacy, Preceptor of the Year, 2011 - 2012
New York Chapter of the American College of Clinical Pharmacy Educator/Preceptor of the Year, 2011
Teacher of the Year, Wegmans School of Pharmacy at St. John Fisher College, 2010 - 2011