Dean Emeritus, School of Business Professor Emeritus, Department of Management/Marketing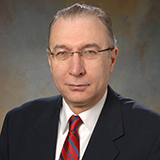 Education:
Ph.D., International Business, Georgia State University
MBA, University of Notre Dame
M.S., B.S., Mechanical Engineering, Robert College, Turkey
Dr. Selim Ilter is professor emeritus at St. John Fisher College and dean emeritus at the School of Business. He retired from St. John Fisher College in 2015 after 31 years of service to the School of Business and the College. During his tenure he taught undergraduate International Business and graduate Global Context of Business courses. He also served in a number of prestigious administrative positions, including department chair, Faculty Council chair, and dean and he made numerous contributions to the growth of the institution. Dr. Ilter's research interests and publications included organizational/interpersonal trust and cross-cultural management.