Professor
Areas of Interest: Pharmacoepidemiology, post-market surveillance, secondary data analysis, pharmacoeconomics, population-based healthcare, managed care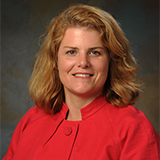 Certifications:
TeamSTEPPS Master Trainer
Education:
Ph.D., Health Services Research and Policy, University of Rochester
MPH, University of Rochester
M.S., Public Policy Analysis, University of Rochester
B.A., Duke University
Dr. Lavigne developed the Pharm.D. curricula in pharmacoeconomics, managed care, quality improvement, healthcare delivery, and population health. She was founding faculty advisor of the campus-wide Institute for Healthcare Improvement (IHI) and has mentored students and post-docs in research and teaching. Dr. Lavigne's campus leadership roles have included Co-Chair of Accreditation Review, pharmacy school representative to the Committee on Rank and Tenure, Faculty Council, Faculty Assembly, Long Term Planning and Budget, and Chair of the Professional Development Committee and the Strategic Planning Subcommittee on Faculty and Staff Engagement and Retention. Beyond campus Dr. Lavigne is an Economist on the New York State Medicaid Drug Utilization Review Board, has served on the editorial board of the Journal of the American Pharmacists' Association, and chaired a review panel for the Centers for Medicare and Medicaid Services. Dr. Lavigne holds degrees in health services research (Ph.D.) and master's degrees in public health (MPH) and public policy (MS) from the University of Rochester and a degree in public policy analysis/East Asian studies (Chinese) from Duke University. Dr. Lavigne studied at Nanjing University and Beijing Teacher's College, and she worked in rural Japan and later traveled the Trans-Siberian Rail to Europe.
Publications
Association Between Folic Acid Prescription Fills and Suicide Attempts and Intentional Self-harm Among Privately Insured US Adults, JAMA Psychiatry, September 2022. Co-authored with Robert D. Gibbons, Kwan Hur, and J. John Mann.
Gatekeeper Training Needs of Community Pharmacy Staff, Suicide and Life-Threatening Behavior, 2021. Co-authored with Delesha M. Carpenter, Courtney A. Roberts, and Wendi F. Cross.
Study Designs and Statistical Approaches to Suicide and Prevention Research in Real-World Data, Suicide and Life-Threatening Behavior, 2021. Co-authored with Tyra Lagerberg, John W. Ambrosi, and Zheng Chang.
Community Pharmacy Staff Interactions with Patients who have Risk Factors or Warning Signs of Suicide. Research in Social and Administrative Pharmacy, 2020. Co-authored with Delesha M. Carpenter, Evan W. Colmenares, Kristin Falbo, and Sherita L. Mosley.
Sleep, Suicide Behaviors, and the Protective Role of Sleep Medicine, Sleep Medicine, 2020. Co-authored with Todd M. Bishop, Patrick G. Walsh, Lisham Ashrafioun, and Wilfred R. Pigeon.
Medications and Suicide: High Dimensional Empirical Bayes Screening (iDEAS), Harvard Data Science Review, 2019. Co-authored with Robert Gibbons, Kwan Hur, Jiebiao Wang, and J. John Mann.
Prescription Medications for the Treatment of Insomnia and Risk of Suicide Attempt: a Comparative Safety Study, Journal of General Internal Medicine, 2019. Co-authored with Kwan Hur, Cathleen Kane, Anthony Au, Todd M. Bishop, and Wilfred R. Pigeon.
Cost–utility Analysis of Blister Packaging all Outpatient Medications for Veterans with Bipolar Disorder, Major Affective Disorder, Post-traumatic Stress Disorder or Schizophrenia, Journal of Pharmaceutical Health Services Research, 2019. Co-authored with Kristin Falbo and Peter M. Gutierrez.