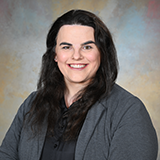 Certifications:
Apple Teacher
Education:
Ph.D., University of Iowa
MBA, Texas A&M University
B.S., Chemical Engineering, Texas A&M University
Leifker attended Texas A&M University where she received her Bachelor of Science in chemical engineering, and continued her education there to earn her Master of Business Administration. She then went on to the University of Iowa, where she pursued her Ph.D. in business administration.
Prior to joining Fisher, she worked as an analyst for Suez Energy Resources N.A., a retail energy provider for businesses. She was also a mechanical engineer for Stewart Systems. In 2005, she was awarded the University of Iowa President Graduate Fellowship, which sent her back to school for her Ph.D.
Originally from Dubuque, Iowa, Leifker spent most of her life in the Dallas, Texas area. Currently, she resides in Brighton.