Associate Dean for Student Affairs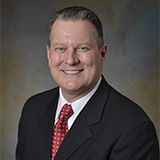 Certifications:
Registered Pharmacist
Apple Teacher
Education:
Ph.D., M.S., University of Mississippi, Oxford
B.S.Pharm., University of Maryland, Baltimore
Dr. McCaffrey received his B.S. in Pharmacy from the University of Maryland, Baltimore and, after a brief career as a community pharmacist, continued his pharmacy-related studies at The University of Mississippi, completing both a M.S. and Ph.D. in pharmacy administration (pharmaceutical marketing and management). Dr. McCaffrey was a faculty member in the Department of Pharmacy of Administration at The University of Mississippi from 1996 through 2013. In January of 2014, Dr. McCaffrey joined the Wegmans School of Pharmacy as assistant dean for student affairs and professor of pharmacy practice and administration.
In addition to his student affairs responsibilities, Dr. McCaffrey maintains an active commitment to pharmacy education through a variety activities that include teaching pharmacy management and a pharmacy seminar designed for students in the Wegmans School of Pharmacy Early Assurance Program. Dr. McCaffrey enjoys a wide-range of research interests. Among those are: medication consumption patterns and the creation of realistic pharmacist-centered interventions to medication adherence, direct-to-consumer advertising of prescription medications, service failure, complaint and recovery in distributive pharmacy practice, and the role of pharmacists in Pharmacy and Therapeutic Committees.
Dr. McCaffrey as garnered awards for his teaching and service activities while at the University of Mississippi School of Pharmacy, including Teacher of the Year in 2010 and 2013, Distinguished Teaching Scholar designation from 2010-2013, Faculty Service Award in 2000 and 2010, Faculty Excellence in Advising Award 2011, and a Certificate of Merit for Faculty Advising from NACADA in 2012.