Assistant Director of Marketing and Communications
Areas of Interest: Public Relations, Strategic Communication, Writing, Social Media, Crisis Communication, Marketing, Advertising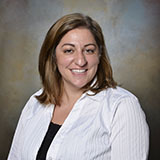 Education:
M.S., Rochester Institute of Technology
B.S., University of Miami
Melissa Greco Lopes is a Rochester-based public relations professional with a demonstrated history of working in the higher education industry. A skilled writer with a track record for producing effective newsletters, periodicals, and social media content, she consistently crafts press releases and pitches that result in steady media coverage. She is also experienced in crisis communication, brand strategy, and integrated marketing.
Greco Lopes joined St. John Fisher College in 2015, bringing with her eight years of higher education public relations experience. At Fisher, she develops and executes media relations efforts, promoting faculty as subject matter experts and generating news coverage of events, activities, and initiatives at the College. She also produces a host of College publications, including College News Highlights and The Beak This Week, as well as several program and school specific newsletters. Greco Lopes also assists in the creation of marketing publications for the College.
Prior to joining Fisher, she served as a social media manager for Dixon Schwabl Advertising Agency and the press officer for student life and teaching at the University of Rochester. Her passion for higher education communications grew while serving as the media editorial coordinator for her alma mater, the University of Miami, where she learned the ins and outs of higher education administration.
Over the course of her career, she has earned several awards for her work, including five PRism Awards and three Awards of Excellence from the Rochester Chapter of the Public Relations Society of America (PRSA).
A longtime advocate for the public relations profession, Greco Lopes is a 10 year member of the PRSA. In 2020, she will move into the position of president-elect, while also serving as co-chair of its Diversity and Inclusion Committee. During her time with the organization, Greco Lopes has helped organize the annual PR Apprentice program, a two-day boot camp that challenges teams of college students to create a PR plan for a local non-profit.
Greco Lopes also sits on the board of Sing-Out Company, Inc. and volunteers with her church, the First Baptist Church of East Rochester.
Connect with Melissa Greco Lopes on LinkedIn