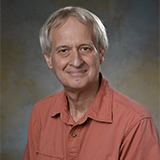 Education:
Ph.D., West Virginia University
B.A., M.A., Youngstown State University
Dr. Gary E. Maggs is professor of economics at St. John Fisher College and a native of Youngstown, Ohio.
His education began at Youngstown State University where he was awarded A.B. and M.A. degrees in economics. He completed his graduate education at West Virginia University, earning a Ph.D. in economics in 1986.
Since then, he has been a full-time faculty member in the Economics Department at St. John Fisher College and has been chairperson of the department for the past eleven years. He has taught courses including Economics (Higher Education Opportunity Program), Principles of Microeconomics, Principles of Macroeconomics, Intermediate Macroeconomics, International Economics, History of Economic Thought, Money and Banking, Economics of Sport, Statistics, Mathematical Economics, Financial Economics, Economics (MBA program), Economics (Executive MBA), and International Economics (Graduate International Studies).
His publications in macroeconomic theory, monetary theory, international economics, and pedagogy, appear in journals such as the Journal of Macroeconomics, Atlantic Economic Journal, Public Finance Quarterly, and the Journal of Economic Education.