Associate Professor and Dean, Ralph C. Wilson, Jr. School of Education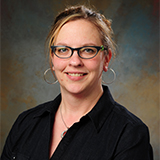 Education:
Ph.D., Ed.S., M.S., B.A., University of Tennessee, Knoxville
Dr. Joellen Maples was appointed dean of the Ralph C. Wilson, Jr. School of Education in 2021. During her tenure as interim dean, Maples led the School in the transition to remote instruction at the height of the COVID-19 pandemic and established a successful remote/hybrid option for Fisher's Weekend College. In addition, she created four online module series for K-12 teachers' learning to transition to online teaching due to the pandemic. She also oversaw the development and approval of three revised hybrid master's degree programs and two new undergraduate certifications. As the current dean, she has been very active in the community establishing many partnerships for initiatives around diversity, equity, and inclusion. Under her leadership, the School of Education has created a teacher pipeline program called the Collaborative Education for Equity which will help diversify the student body in the School as well as diversify the teaching workforce in Monroe County. She has also led the summer school programming at Fisher with the Rochester City School District (RCSD) and Encompass Grows, bringing over 300 students to the campus. Additionally, she has overseen the curriculum revisions of all the programs in the School to become more culturally responsive.

Prior to her appointment, Maples served as an associate professor in the Department of Literacy at Fisher, where she has worked since 2008. In 2019, she became an associate professor in the inclusive education program until she became interim dean in 2020. She provides training in local school districts in the areas of culturally responsive teaching, critical literacy, and online teaching and learning. During her time at the University, she has been the recipient of the Dr. Mark Szarejko Faculty Information Literacy Award and the New York State English Council Educator of Excellence Award. In addition, she has been a member of the Walden Award Committee for the Assembly on Literature for Adolescents of National Council of Teachers of English (NCTE), and she has acquired numerous grants which include a six-year Mentoring Matters grant to work with middle school students in RCSD. Finally, her interests include exploring effective strategies for facilitating democratic dialogue and critical literacy through young adult literature and online discussions about literature. She has published in prominent NCTE journals such as Voices from the Middle, The English Journal, and English Leadership Quarterly.

Maples has earned a B.A. in English, M.A. in Curriculum and Instruction, Ed.S. in English Education, and Ph.D. in English Education from the University of Tennessee.