Assistant Professor
Areas of Interest: Identifying and addressing needs, gaps, and barriers in how we provide health care for people with complex, pediatric-onset conditions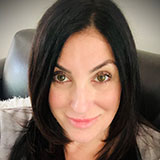 Certifications:
Pediatric Nurse Practitioner
Pediatric Mental Health Specialist
Registered Nurse
Apple Teacher
Education:
DNP, Post-Doctoral FNP, University of Rochester
MSN, PNP, University of Rochester
BSN, University of Rochester
Dr. Amy Jerum joined the Golisano Institute of Developmental Disability Nursing at St. John Fisher College as the pediatric specialist for the Institute. She is also a visiting assistant professor of nursing at Fisher's Wegmans School of Nursing.
Prior to joining the Golisano Institute, Dr. Jerum was the director of workforce development for the University of Rochester Medical Center, Division of Transitional Care Medicine and Complex Care Center. She continues to serve in a clinical role at the Monroe Community Hospital Pediatric Unit and with the UR Department of Child & Adolescent Psychiatry/Project TEACH.
Dr. Jerum is known for her expertise in identifying and addressing needs, gaps, and barriers in how we provide health care for people with complex, pediatric-onset conditions. She cares for child and adolescent patients admitted to the Pediatric Unit at Monroe Community Hospital, a skilled nursing facility. Lastly, as a faculty member of the University of Rochester team of Project TEACH, funded through the New York State Office of Mental Health, Amy and the team provide training in behavioral and mental health care to pediatric providers (doctors, nurse practitioners, and physician assistants) across the state.
Common to all the areas in which she serves, Amy begins with a critical assessment of the problem and develops evidence-based interventions to bridge gaps and ultimately meet the needs of patients and families. Ultimately, Dr. Jerum works to address health care needs from the perspective of all the stakeholders, with the overarching goal of de-polarizing relationships between consumers, providers, and the hospital system.
Dr. Jerum earned her undergraduate (BSN, '99) and graduate degrees (MSN PNP, '02; DNP, '16; and post-doctoral FNP, '20) from University of Rochester School of Nursing. She is board certified in pediatrics and as a pediatric mental health specialist.
Publications
Planerova, A., Kakkar, M., Busick, H., Jerum, A., Pulcino, T. HOMEAIR: Preventing Pneumonia in Ventilator Dependent Patients through Oral Care. International Association of Dental Research. Session Title: Dental Practice Characteristics, Dental Programs and Dental Fear and Anxiety, Washington, DC, March 18-21, 2020 (virtual format).
Jerum, A. Recognition and Management of Pediatric Anxiety Disorders in the Primary Care Setting: A Self-Determination Theory Guided Training Program. Western Region Nursing Research 10th Annual Doctoral Consortium, Washington, DC, November 14, 2019.
Jerum, A. Recognition and Management of Pediatric Anxiety Disorders in the Primary Care Setting: A Self-Determination Theory Guided Training Program. Presented at 7th International Self-Determination Theory Conference, Egmond aan Zee, The Netherlands, May 21-25, 2019.
Pulcino, T., da Silva, A., Davidson, K., Schwab Jerum, A., Lie, A. Poster Title: The UR Medicine Complex Care Center: An Example of Interdisciplinary Team-Based Care Using Care Team Huddles. Presented at University of Rochester 5th Annual Team-Based Care Symposium, January 30, 2019.
[Schwab] Jerum, A., Pulcino T., Davidson, K. Poster Title: The Complex Care Center: Innovations in interdisciplinary care. Presented at the Collaborative Family Healthcare Association 20th Annual Conference, Rochester, NY, October 19, 2018.
Jerum, A., Melnyk, BM. (2001). Effectiveness of interventions to prevent obesity and obesity-related complications in children and adolescents. Pediatric Nursing, 27(6), p. 606 – 610.
Sporn, LA, Sahni, SK, Lerner, NB, Marder, VJ, Silverman, DJ, Turpin, LC, Schwab [Jerum], A. (1997). Rickettsia rickettsii infection of cultured human endothelial cells induces NF- kappaB activation. Infection & Immunity, 65 (7), p. 2786 – 2791.
Flessner, MF, Schwab [Jerum], A. (1996). Pressure threshold for fluid loss from the peritoneal cavity. American Journal of Physiology, 270 (2), p. 377 – 390.