Assistant Professor in Pharmaceutical Sciences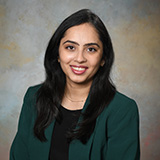 Certifications:
Apple Teacher
Education:
Post-Doctoral Fellowship, University of South Florida
Ph.D., The Maharaja Sayajirao University of Baroda, India
M. Pharm., The Maharaja Sayajirao University of Baroda, India
B. Pharm., Gujarat University, India
Dr. Bhatt comes to Department of Pharmaceutical Sciences with a Bachelor of Pharmacy from Gujarat University, India in 2010, Master of Pharmacy in Pharmaceutics (New Drug Delivery Systems) and Ph.D. in Pharmacy from The Maharaja Sayajirao University of Baroda, India in the year of 2012 and 2018, respectively. While pursuing her doctoral degree in the area of pharmaceutical sciences, she was awarded Junior and Senior Research Fellowship Award by University Grants Commission, India. Her Ph.D. dissertation was focused on site-specific drug delivery for treatment of ovarian cancer and her research has reached an international scientific audience through her publications in well-known journals of the field. In 2018, she moved to Tampa, Florida to pursue her postdoctoral experience in Department of Pharmaceutical Sciences, Taneja College of Pharmacy, University of South Florida. As a postdoctoral fellow she was leading a research project funded by Florida High-tech Corridor Matching Grant on formulation development of polymeric nanoformulations for sustained delivery of drug in posterior segment of eye to treat neovascular age-related macular degeneration.
Teaching
PHAR 3142 – Pharmaceutics I
PHAR 3242 – Pharmaceutics II
PHAR 3122 – Pharmacy Calculations
Research
Her primary area of research interest is developing drug delivery systems mainly focusing oncology and ophthalmology therapeutic areas. Her strength in field of drug delivery lies in her background and experience in formulation development of lipid and polymer based nanoparticulate systems as well as sustained drug delivery systems using thermoreversible gel. She has edited 1 book, authored 9 book chapters and 25 peer reviewed publications in reputed journals of the field. She is also serving as a reviewer for 11 and topic editor in 2 reputed international journals.
Selected Publications
A Shahid, P Bhatt, A Miller, V Sutariya. Honokiol-Loaded Methoxy Poly (Ethylene Glycol) Polycaprolactone Micelles for the Treatment of Age-Related Macular Degeneration. ASSAY and Drug Development Technologies Vol. 19, No. 6 (2021). PMID: 34227879
Bhatt P, Fnu G, Bhatia D, Shahid A, Sutariya V. Nano delivery of Resveratrol-Loaded PLGA Nanoparticles for Age-Related Macular Degeneration, AAPS Pharm SciTech volume 21, Article number: 291 (2020). PMID: 33085055
Bhatt P, Kelly S, Sutariya V. Nanoscale delivery systems in treatment of posterior ocular neovascularization: strategies and potential applications; Therapeutic Delivery, 2019,10 (11), 737-747. PMID: 31718481
Bhatt P, Narvekar P, Lalani R, Chougule MB, Pathak Y, Sutariya V. An in vitro Assessment of Thermo-Reversible Gel Formulation Containing Sunitinib Nanoparticles for Neovascular Age-Related Macular Degeneration. AAPS Pharm SciTech, Aug 9,2019;20(7):281. PMID: 31399890
Bhatt P, Lalani R, Vhora I, Patil S, Amrutiya J, Misra A, Mashru R. Liposomes encapsulating native and cyclodextrin enclosed Paclitaxel: Enhanced loading efficiency and its pharmacokinetic evaluation, International Journal of Pharmaceutics. (2018); 536, 95-107. PMID: 29175440