Coordinator for Online Learning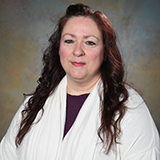 Certifications:
NYS Permanent Teacher Certification K–12 Special Education
Education:
M.S., St. John Fisher University
B.A., St. John Fisher University
Jill Hardy is a native Rochesterian and alumna of St. John Fisher University. Her background is in early intervention and elementary education, and most of her career has been in the nonprofit world. Prior to joining Fisher, her dedication to educating students through inquiry-based intervention programs led her to pursue coordinator roles in which she acquired a holistic philosophy of care for families and students. She developed community partnerships that created opportunities for program participants and provided a social-emotional network to encourage support and growth. Through this work, Jill discovered a passion for eradicating food insecurity by leading families in growing a MyPlate garden and engaging in healthy cooking classes with their children.