Assistant Professor Department of Pharmacy Practice and Administration, Administrative and Social Sciences
Areas of Interest: HIV/AIDS, Medication adherence, Health Disparities, Cultural Competence, Diversity, Inclusivity & Anti-Racism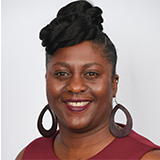 Certifications:
Apple Teacher Mental Health First Aid Provider
Education:
Ph.D., Nova Southeastern University
Pharm.D., University of Florida
B.Sc. Pharmacy, University of the West Indies
Dr. Edwards joined the Wegman School of Pharmacy in. 2022. She earned a Bachelor of Science in Pharmacy from the University of the West Indies, Trinidad in 2000 and then a Doctor of Pharmacy degree from University of Florida in 2007. In 2017, she was successful in completing her Doctor of Philosophy in Pharmaceutical Sciences at Nova Southeastern University. She then joined the University of Findlay, College of Pharmacy as an Assistant Professor. Her dissertation focused on adherence in Caribbean immigrants infected with HIV/AIDS.
Dr. Edwards' teaching responsibilities are focused on the online program, specifically the administrative pharmacy courses.
Teaching:
Research:
Dr. Edwards' specialty is Social and Administrative Sciences with a research focus in social, behavioral and cultural issues in healthcare. The majority of her scholarly activity comes by the way of collaborations resulting from service provided to professional pharmacy organizations such as the American Association of Colleges of Pharmacy. Her research targets vulnerable populations and delves into issues such as bias, discrimination and cultural competence.
Recent Publications:
Papers:
Book Chapters:
Oral Presentations:
"Xenophobia in Healthcare: A Focus on Immigrant Health & Culture" American Association of Colleges of Pharmacy 05/2021
"Health Disparities" Florida, Agricultural and Mechanical University 04/2021