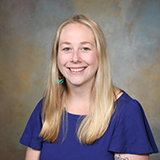 Certifications:
Licensed Mental Health Counselor, State of New York
Education:
B.A., Ithaca College
M.S.Ed., Old Dominion University
Brie Halloran is a mental health counselor at the Health and Wellness Center, and has been with the University since 2022. She has a Master's degree in Mental Health Counseling from Old Dominion University and a Bachelor's degree in Psychology from Ithaca College. Since receiving her Master's degree, she has worked in a wide array of settings and with a diverse range of clients. Her work experiences include: inpatient treatment for youth and teens; community-based family therapy for at-risk youth and their caregivers; and outpatient therapy for teens, young adults, and adults facing a variety of mental health concerns. She is excited to bring these experiences to her work as a counselor at the Health and Wellness Center. Her counseling style has been described by her clients as attentive, empathic, warm, affirming and positive.
Outside of work, Brie likes to spend as much time as she can hiking in the Adirondacks and across the Northeast. She is working towards her goal of becoming an Adirondack 46er. Brie is an avid reader and is always carrying a book with her just in case she has a few minutes of down time. Brie also enjoys spending time with her family and dog.