Associate Professor and Chair, Biology Department
Areas of Interest: Motile flagellar assembly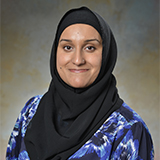 Certifications:
Apple Teacher
Education:
Ph.D., SUNY Upstate Medical University
B.S., St. John Fisher College
Teaching
BIOL 109C - P4 Human Genetics
BIOL 199C - RW Research-Based Writing
BIOL 311 - Cell Biology
BIOL 311L - Cell Techniques
BIOL 318 - Genetics
BIOL 319 - Histology
BIOL 416 - Biological Imaging
Research
My research focuses on motile flagellar assembly; in particular, how the components get targeted to the flagellar compartment and eventually attach at specific locations on the axoneme, the 9+2 doublet microtubule scaffold, using the model organism Chlamydomonas reinhardtii.
Cilia and flagella are highly evolutionary conserved structures shared between vertebrates and other simpler, eurkaryotes. Motile cilia and flagella are composed of an estimated 250 proteins (Dutcher, 1995) and a failure to correctly assembly these components has been shown to cause Human Immotile Cilia syndrome. Patients can present with chronic respiratory infections, reduced fertility in females, infertility in males, situs inversus, and hydrocephalus (Millisav, 1998).
Flagellar assembly involves partial assembly of large flagellar complexes in the cytoplasm, transport of proteins into the flagellar compartment and attachment of proteins at specific locations in the flagella (Fowkes and Mitchell, 1998; Qin et al., 2004). The transport of flagellar components is thought to occur by a process termed intraflagellar transport in which flagellar proteins are recognized and transported into and out of the flagella via large protein shuttles (Cole, 2003). Flagellar assembly is a multi-step, multi-organelle process that has been extensively studied in Chlamydomonas reinhardtii. C. reinhardtii is an unicellular, biflagellate alga capable of both symmetric (flagella-like) and asymmetric (cilia-like) beating, making it an excellent model for both flagellar and ciliary assembly and motility. My research will focus on the creation and characterization of new flagellar assembly mutants in C. reinhardtii.
Publications