Professor
Areas of Interest: Branding on social media; pedagogy: teamwork and social loafing in classrooms; management of innovations; intergenerational influences and conflict; human resource management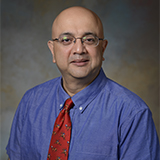 Education:
Ph.D., Business Administration (Marketing), Syracuse University
MBA, Syracuse University
MMS, Bombay University
B.Com., Bombay University
Hemant C. Sashittal (Sashi) started as an assistant professor of marketing at the Department of Management at St. John Fisher College in the fall of 1991. He has since served as chair for ten years and currently serves as professor of marketing in the School of Business.
He is engaged in producing original scholarship and publications in the areas of branding (on social media), pedagogy (teaching and learning related to classroom teams, classroom social loafing), intergenerational issues in the workplace (focus on conflict), and product innovation processes.
Hear Sashi discuss some of his recent research on successful transitions.
Publications
Please see Sashi's personal website for publications in journals, conferences, textbooks, book chapters, and Harvard Business Review case studies.
Additional Information