Preceptor Center Welcome
The Preceptor Center is designed to provide you with a brief introduction to our experiential program.
We are always looking for qualified preceptors willing to help train the next generation of pharmacists and encourage all pharmacists to consider participation in this important function of "giving back" to the profession. If at any time you have a question regarding our experiential education program, please contact the Office of Experiential Education at the addresses listed below.
Associate Professor Director of Experiential Education & CPE
Areas of Interest: Experiential education, bioterrorism preparedness, mission trips with Global Volunteers, Phi Delta Chi, and antique marbles.
Experiential Education Coordinator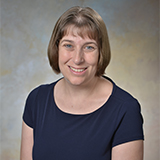 Visiting Assistant Professor and Assistant Director of Experiential Education