Professor and Dean, Wegmans School of Pharmacy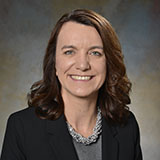 Certifications:
Apple Teacher
Education:
Ph.D., University of the Sciences in Philadelphia
B.S.Pharm., Philadelphia College of Pharmacy and Science
Dr. Birnie received her bachelor's degree in pharmacy from the Philadelphia College of Pharmacy at the University of the Sciences in Philadelphia and continued her studies at the same institution, completing a doctoral degree in the area of pharmaceutics. She has worked in a range of pharmacy settings including community and hospital pharmacy and is a registered pharmacist in Pennsylvania, New Jersey, and Florida. Upon completing her doctorate, she joined the pharmaceutical industry before transitioning to the faculty of Palm Beach Atlantic University in West Palm Beach, Florida. There, she helped to develop the compounding laboratories and pharmaceutical science curriculum in the newly founded school. She began her tenure at the Wegmans School of Pharmacy in 2006, first as a founding faculty member, later as chair of the Department of Pharmaceutical Sciences, and in 2017 was appointed dean.
Birnie's primary teaching responsibilities have included pharmacy calculations, pharmaceutics, and the compounding laboratory. She developed and taught an elective course, Introduction to Medical Missions, which includes students from nursing and pre-professional disciplines. She also precepts fourth-year students in clinical rotations related to international medical missions and local service learning rotations.
Her research interests have included the development and formulation aspects of semi-solid dosage forms, stability of compounded products, veterinary pharmacy, medical missions and the scholarship of teaching and learning. She has stayed active in scholarship, publishing and presenting poster/podium presentations and is a regular speaker nationally on the topics of pharmacy missions and international pharmacy.
An avid proponent for service and volunteerism both locally and abroad, Birnie has participated in more than 20 student-based medical mission trips around the world and leads a medical mission trip to India annually. She is actively involved in the American Association of Colleges of Pharmacy (AACP), having served in numerous delegate and planning committees. She is a 2012 graduate of the AACP Academic Leadership Fellowship program and is a member of the American Association of Pharmaceutical Sciences, American Pharmacists Association, and the Christian Pharmacists Fellowship International. Locally, she serves on the boards of St. Joseph's Neighborhood Center, Mary's Place Refugee Outreach and India Connection.
Birnie has been the recipient of several awards, including Teacher of the Year (2006), CPFI's Warren Weaver Service Award (2008), St. John Fisher University's Diversity Innovation Bricoleur Award (2010), was a recipient of a Fulbright Scholar Award to India (2013), and was named a Rochester Champion of Pharmacy by the Pharmacy Society of Rochester and Rochester Society of Health System Pharmacists (2018). In 2023 she was named a Woman of Excellence by the Rochester Business Journal.
Publications
Forrest, J., M. H. Elnaem, S. E. Gleason, C. Birnie, and M. Ryan. "White Paper on the Scholarship of Teaching and Learning: Expanding the Academic Pharmacy Promotion and Tenure Process". Pharmacy Education, vol. 22, no. 4, Nov. 2022, doi:10.46542/pe.2022.224.115122.
McMillan, K., Birnie, C. Pharmacy Team Leads Efforts for COVID-19 Vaccine Clinic for Underserved. New York State Pharmacist, Issue 2:12-14, 2021.
Miller, J. and Birnie, C. Serving Locally: Opportunities for Pharmacists to Volunteer in their own Backyards. Christianity and Pharmacy, 24(2):10-12, 2021.
Conn, K. Birnie, C., McCaffrey, D., Brown, J. The relationship between pharmacy school success, prior experiences in mathematics and confidence in performing mathematical tasks. American Journal of Pharmaceutical Education, 82(4): 6257, 2018. doi: 5688/ajpe6257
Smith, MT, Monahan, MP, Nelson, P, Moruzzi, M, DeLucenay, AJ, and Birnie, CR. Elevated Blood Pressure in the Developing World: A Role for Clinical Pharmacists, International Journal of Pharmacy Practice, 26(4):334-340, 18 Sep 2017, DOI: 10.1111/ijpp.12398
Nathan, K., Conn, K., and Birnie, C. Assessing Student Perceptions of the Pharm.D. Degree at a Private Tertiary Medical University in India. Pharmacy Education, 17, 2017.
Kratochwill, L., Almagambetova, E., Corigliano, A., Birnie, C., and Chablani, L. The Use of Podcast as a Teaching Tool for a Pharmacy Compounding Pre-laboratory Lecture: A Survey Based Study. Pharmacy Education, 16, 2016.
Pignato, A. and Birnie, C. Analysis of Compounded Pharmaceutical Products to Teach the Importance of Quality in an Applied Pharmaceutics Laboratory Course. American Journal of Pharmaceutical Education, 78(3):61, 2014.
Mehta, R., Zhang, M. and Birnie, C. Caring for the Refugee Patient: A Pharmacist's Role. New York State Pharmacist: Century II, 88(1):26-27, 2014.
Gleason B., Siracuse M., Moniri N., Birnie C., Okamoto C., Crouch M. Evolution of the Preprofessional Pharmacy Curricula. American Journal of Pharmaceutical Education, 77(5):95, 2013.
Birnie, C. Acquisition of Medications for Short-Term Mission Trips. Christianity and Pharmacy, 14(4):22-26, 2013.