Light Up the Night
The Wegmans School of Nursing celebrates and recognizes Fisher Nurses of the past, present, and future during the annual Light Up the Night event.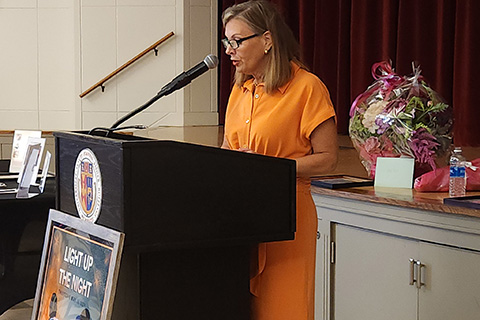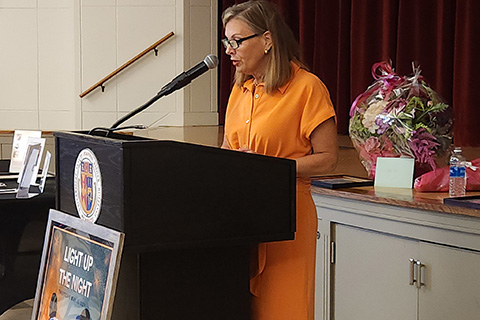 Light Up the Night 2023 Awardees
We celebrate the exceptional individuals recognized at the 2023 event.
Fisher Nurse Impact Award, Direct Patient Care
Scott VanHoover, BSN, RN
This award recognizes a Fisher Nurse who provides expert, compassionate, and ethical direct patient care and whose leadership contributes to the advancement of nursing practice. This nurse serves as an inspirational role model for others.
Fisher Nurse Impact Award, Community
Dr. Wendy Hou
This award recognizes a Fisher Nurse who acts as an advocate for all and contributes significantly to the betterment of the community, collaborates with other health care and community-based organizations, and demonstrates excellence in caring behaviors that positively impact the community. The recipient can be from any of the specialty areas of nursing.
Fisher Nurse Scholar Award
Dr. Lori Dambaugh
This award recognizes a Fisher Nurse who engages in intellectual inquiry, making significant contributions through research and innovation for the improvement of nursing science.
Fisher Nurse Rising Star Award
Sara Crouser, RN
This award recognizes a Fisher Nurse who has been practicing for two years or less who demonstrates a strong commitment to the profession through providing inclusive, ethical, compassionate care while seeking out new knowledge to improve nursing practice.
Fisher Nurse Transformational Leadership Award
Sarah Gantz, BSN, RN, CCRN
This award recognizes a Fisher Nurse who fosters a team approach to patient care and/or population care, who understands and respects the diversity of patients, families, and members of the health care team, and positively reflects the image of nursing throughout the healthcare systems and/or community.
Distinguished Achievement Award
Dr. Char Smith
This is the highest award given to a member of the Fisher Nurse community. This honor recognizes an individual's outstanding and sustained contributions to the nursing profession and the Wegmans School of Nursing.